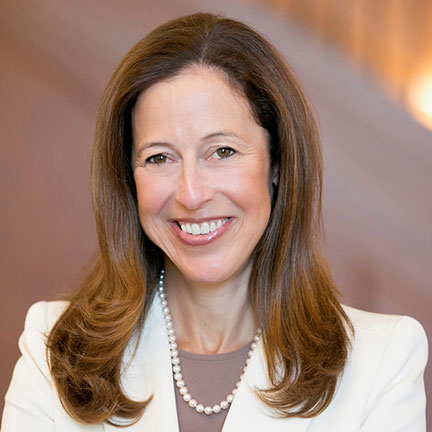 Stephanie Pierce
Chief Executive Officer
5 Years with the firm
31 Years of industry experience
Stephanie M. Pierce is the CEO of Dreyfus, Mellon & Exchange-Traded Funds at BNY Mellon Investment Management. In this role, she has responsibility for the development of the firm's sponsored ETF offering as well as the index and money markets businesses. Stephanie is an entrepreneurial investment management veteran with extensive leadership experience driving strategic change and commercial innovation across investment management companies. Over the course of her nearly three-decade career, Stephanie has proven especially adept at spearheading the conceptualization, launch, and growth of businesses and cross-platform initiatives that touch multiple business lines across large enterprises.
Prior to joining BNY Mellon in 2018, Stephanie served as Executive Vice President, Investment Product Group at Fidelity Investments, where she led product strategy for Fidelity's $2 trillion asset management business. A member of the Asset Management Senior Management Team, Stephanie ran strategy and development for more than 500 mutual funds and other investment products, and brought several key investment solutions to market.
Previously, Stephanie was Executive Vice President, Investment Business Development, where she combined her investment experience and commercial background to lead a growth agenda through product development, thought leadership and institutional portfolio management. Joining Fidelity in 2010, she launched an investment thought leadership program that included innovative research, rebuilt the firm's relationship with Morningstar to improve ratings and created shared product priorities and governance procedures across multiple teams.
Before joining Fidelity, Stephanie was Senior Vice President, Product Management, Business Development and Client Portfolio Management at Janus Henderson. In this role, Stephanie created and managed a global product organization to maximize the commercial viability of Janus investment strategies, raising over $4 billion in new assets. Stephanie also enjoyed a 13-year tenure in various roles at Goldman, Sachs & Co. in New York and San Francisco.
Stephanie, who resides in Boston with her husband and daughter, has a BA in International Relations from Stanford University and holds the Series 24, 7 and 3 certifications. She is a member of the Leadership Board at Beth Israel Deaconess Medical Center, a member of the Board of Advisors for the Boston Ballet, a member of the Advisory Board of the Journal of Portfolio Management, a member of the Speakers' Bureau of Women in ETFs and a Trustee for the US Ski and Snowboard Foundation Board.